Enjoy the new layout of one of the top 10 golf courses in Europe, where you will be challenged on every hole. Excitement is guaranteed from the first to the last hole.
The incomparable care measures enable a game at tour level. The bunker layout is based on the principles of Alister McKenzie and built with the market-leading Better Billy Bunker Technology, this ensures perfect drainage and the highest USGA standards.
FONTANA is more
than a golf course!
The GREEN Golf Course
A sustainable success story
Designed by Doug Carrick and Hans-Georg Erhardt in 1996, the course underwent a facelift between 2017 and 2021 by the original designer Doug Carrick and Barry B. Britton. In the course of the redesign, among other things, environmentally friendly USGA, 007 & V-8 Bentgrass Tees & Greens were built, they do not only require significantly less nutrients, but also almost no fertilizer. Our individually controllable sprinkler heads also enable an economical and sustainable use of the precious resource water.
FONTANA Championship Course


golf course overview
Par 4 - Hcp 1
Hole 1
Red: 328m | 359y
Blue: 360m | 394y
Yellow: 370m | 405y
White : 398m | 435y
Black : 416m | 455y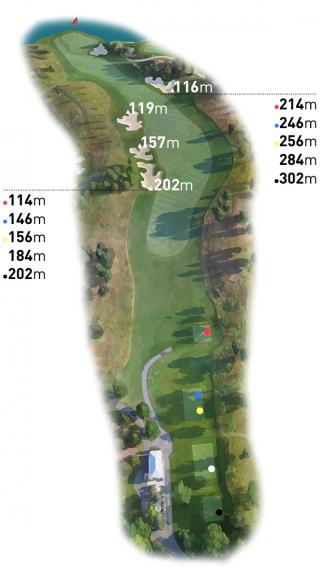 Par 3 - Hcp 9
Hole 2
Red: 88m | 96y
Blue: 88m | 96y
Yellow: 111m | 122y
White : 133m | 145y
Black : 145m | 159y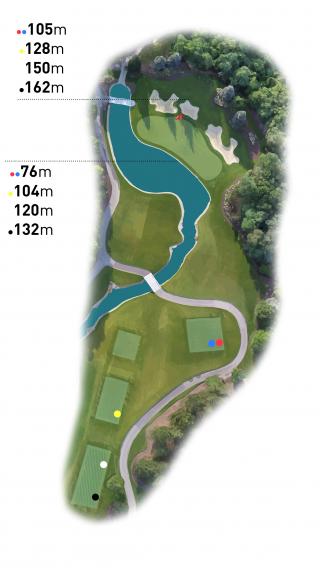 Par 4 - Hcp 15
Hole 3
Red: 236m | 258y
Blue: 266m | 291y
Yellow: 274m | 300y
White : 313m | 342y
Black : 344m | 376y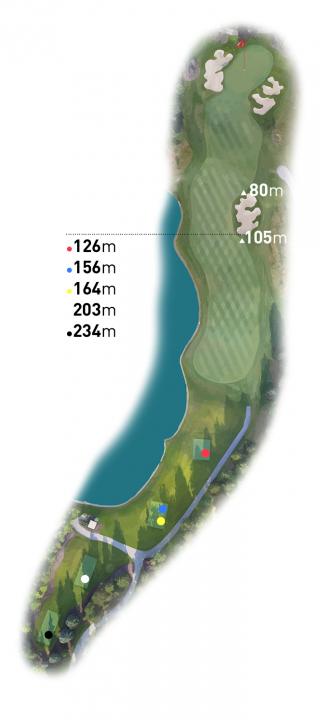 Par 5 - Hcp 7
Hole 4
Red: 384m | 420y
Blue: 453m | 496y
Yellow: 467m | 511y
White: 491m | 537y
Black: 525m | 574y

Par 3 - Hcp 17
Hole 5
Red: 105m | 115y
Blue: 116m | 127y
Yellow: 130m | 142y
White: 149m | 163y
Black: 171m | 187y
Par 4 - Hcp 11
Hole 6
Red: 289m | 316y
Blue: 339m | 371y
Yellow: 354m | 387y
White: 171m | 417y
Black: 171m | 187y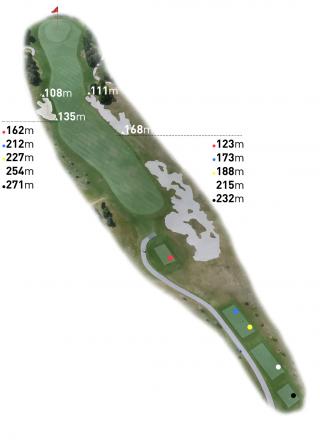 Hole 7
Par 4 - Hcp 13
Red: 230m | 252y
Blue: 307m | 336y
Yellow: 318m | 348y
White: 344m | 376y
Black: 363m | 397y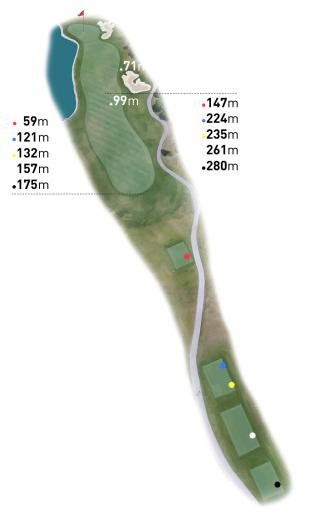 Hole 8
Par 4 - Hcp 5
Red: 271m | 296y
Blue: 322m | 352y
Yellow: 336m | 367y
White: 366m | 400y
Black: 392m | 429y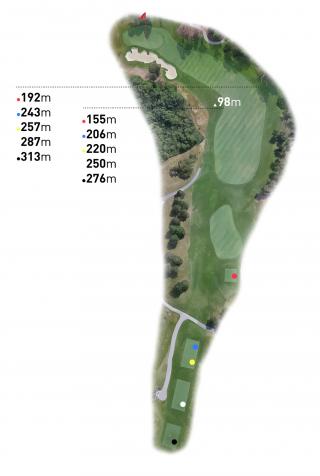 Hole 9
Par 5 - Hcp 3
Red: 397m | 434y
Blue: 461m | 504y
Yellow: 471m | 515y
White: 495m | 541y
Black: 515m | 563y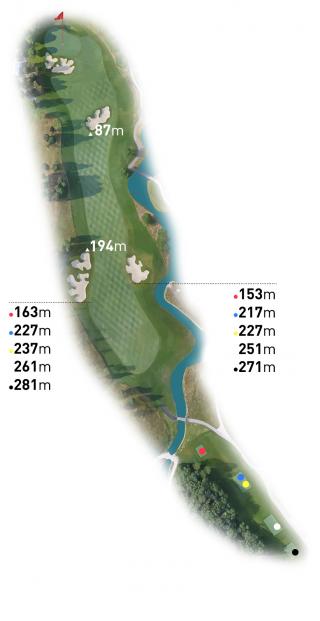 Hole 10
Par 4 - Hcp 10
Red: 327m | 358y
Blue: 351m | 384y
Yellow: 361m | 395y
White: 398m | 435y
Black: 432m | 472y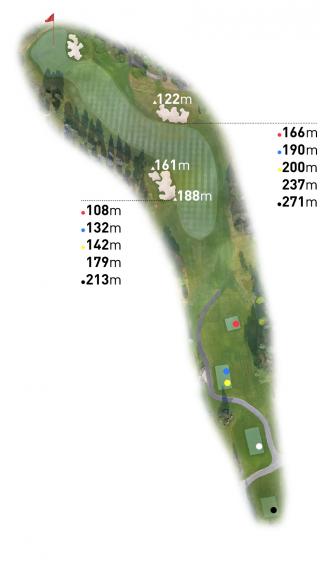 Hole 11
Par 4 - Hcp 14
Red: 268m | 293y
Blue: 352m | 385y
Yellow: 364m | 398y
White: 388m | 424y
Black: 409m | 447y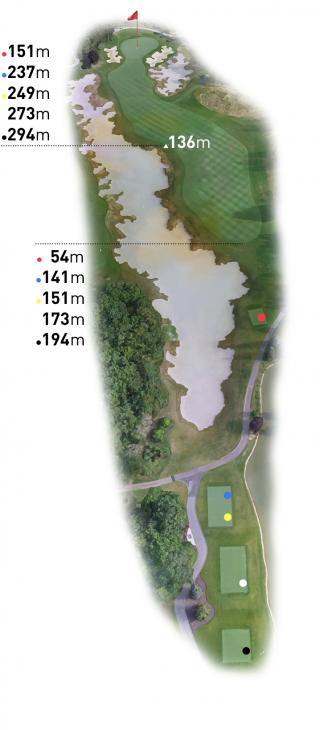 Hole 12
Par 4 - Hcp 8
Red: 341m | 373y
Blue: 360m | 394y
Yellow: 370m | 405y
White: 417m | 456y
Black: 442m | 483y

Hole 13
Par 5 - Hcp 4
Red: 421m | 460y
Blue: 475m | 519y
Yellow: 483m | 528y
White: 517m | 565y
Black: 533m | 583y
Hole 14
Par 4 - Hcp 18
Red: 230m | 252y
Blue: 290m | 317y
Yellow: 300m | 328y
White: 323m | 353y
Black: 339m | 371y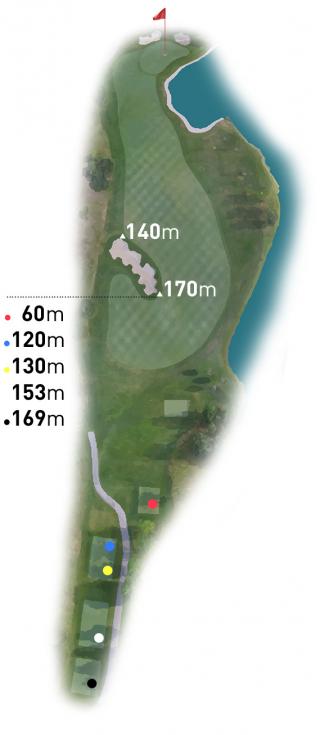 Hole 15
Par 3 - Hcp 16
Red: 94m | 103y
Blue: 115m | 126y
Yellow: 119m | 130y
White: 138m | 151y
Black: 161m | 176y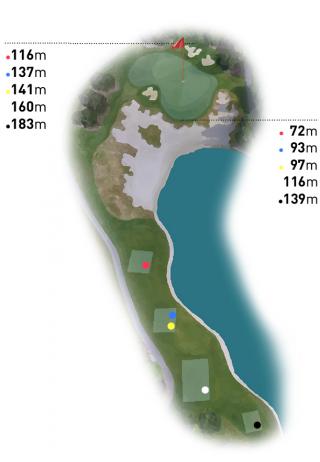 Hole 16
Par 4 - Hcp 6
Red: 297m | 325y
Blue: 356m | 389y
Yellow: 363m | 397y
White: 429m | 469y
Black: 447m | 489y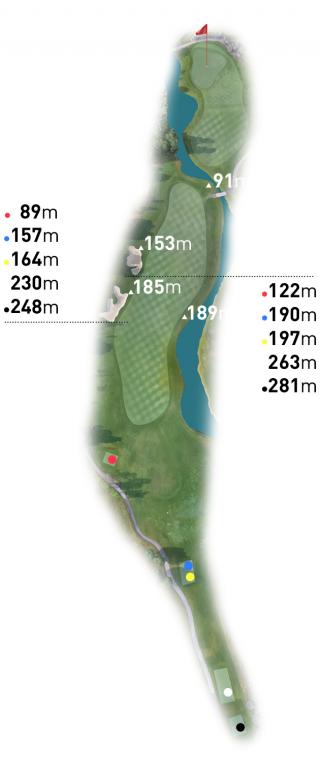 Hole 17
Par 3 - Hcp 12
Red: 137m | 150y
Blue: 153m | 167y
Yellow: 153m | 167y
White: 187m | 205y
Black: 193m | 211y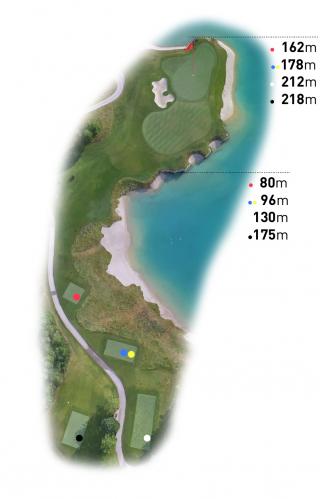 Hole 18
Par 5 - Hcp 2
Red: 418m | 457y
Green: 443m | 484y
Blue: 467m | 511y
Yellow: 476m | 521y
White: 497m | 544y
Black: 513m | 561y