Combine your dream home in the FONTANA residential park with a membership in the clubhouse. As a FONTANA member, you can enjoy carefree hours on the golf course, in the sand of the tennis court, in the wellness and fitness area, or relax at the swimming lake and find the necessary balance in the troubled waters of everyday life.
The perfect location for any pace
10 hectare swimming lake
Relaxation on the sandy beach
In summer, the turquoise-blue FONTANA swimming lake with a sandy beach, playground and spacious sunbathing lawn gives you space and time to relax and recharge.
The FONTANA Beach Bar invites you to a barbecue with a Caribbean flair and a cocktail on the beach. Regional – seasonally coordinated – food is the focus of the food.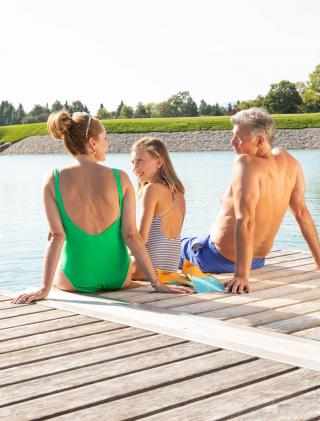 GOLF
The Round Of Your Life
With numerous bunkers and water hazards, the FONTANA 18-hole championship course is challenging, but fair, and promises pure golf enjoyment for both amateurs and professionals.
Players of all handicap classes will find the perfect setting for an unforgettable golfing experience in the spacious FONTANA facility. Gently undulating fairways meander along with the spacious bunker landscapes, which are optimally complemented by impressive water hazards.
At the tee of the 17th and 18th holes, there is a breathtaking view over the turquoise-blue bathing lake to the amazing clubhouse.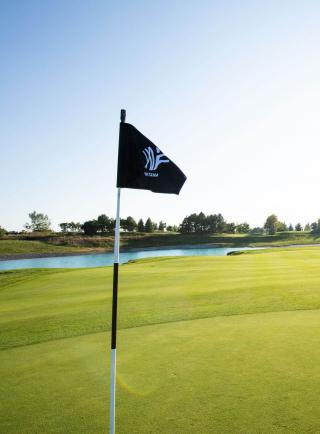 FITNESS
Never give up.
Two spacious fitness areas offer space for a comprehensive range of training options. A strength and gymnastics area supports muscle building and improves elasticity. The cardio area faces the turquoise blue lake and helps you burn those excess calories as efficiently as possible.
Commit to be fit.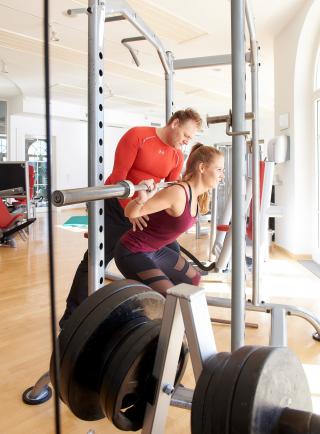 RESTAURANT
Limitless culinary delights
The FONTANA restaurant is perfect for every occasion – from starting the day with a health-conscious, energizing breakfast, for a balanced lunch, for a coffee break or for an unforgettable dinner.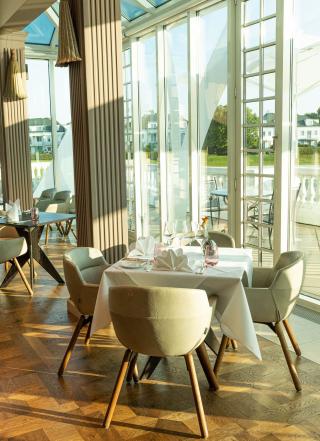 TENNIS
All about the yellow ball
FONTANA offers you five perfectly manicured clay courts. These outdoor areas are swept, watered and serviced daily by our dedicated maintenance team throughout the season.
You can either reserve the playing fields individually or you can secure a FONTANA season pass, which allows unlimited bookings throughout the season.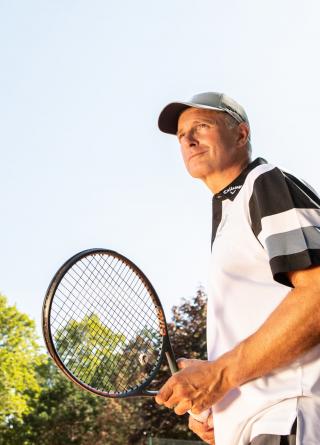 WELLNESS
Total relaxation
The wellness area in the clubhouse offers you a variety of relaxation options: A comprehensive sauna area with sauna, relaxation room and ladies' sauna, a steam bath, solarium and two massage rooms.
Yoga im Gruppenkurs oder alleine am Steg des Badesees kann aber darüber hinaus für interes­sierte und suchen­de Menschen auch weitergehende Erfahrungen der Selbstfindung ermög­lichen.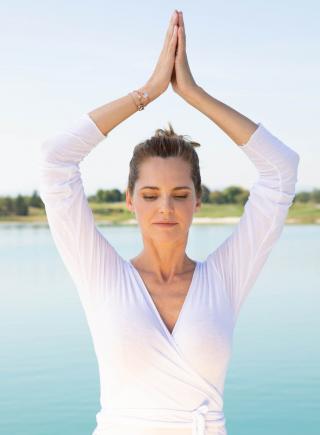 Ausflüge ins Grüne
Hiking & jogging
Zahlreiche Joggingstrecken umgeben FONTANA. Ob durch den FONTANA-Wald entlang der Triesting oder ein Ausflug in den Wienerwald, für jede persönliche Herausforderung ist gesorgt.
Für alle die es lieber langsamer angehen wollen, bietet u.a. der Schneeberg eine angenehme Wanderroute für alle Schwierigkeitsklassen.
Einladend wacht der Schneeberg (2.007 m) in der Ferne über das Wiener Becken und bietet eindrucksvolle Wanderrouten für alle Schwierigkeitsklassen.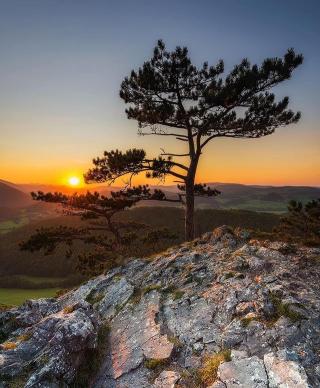 Radeln durch Niederösterreich
Asphalt or earth
Der neu gestaltete Abschnitt des Fahrradweges von Oberwaltersdorf nach Traiskirchen ist Teil des umfassenden Radwegenetzes in der Umgebung von FONTANA.
Für die Extraportion Adrenalin sind Mountainbike-Touren in den Wienerwald der perfekte Plan und FONTANA bietet dazu den idealen Ausgangspunkt.